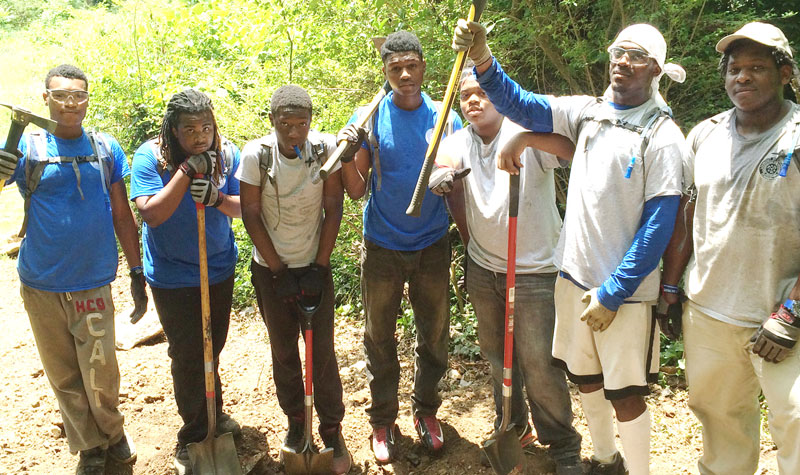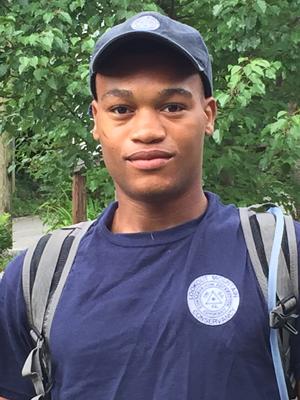 It wasn't like it was unexpected. Things had been pretty tough for Sayyid for a long time. But the day that his dad told him he needed to get a job sticks in his mind. There wasn't enough money to pay for rent or food. Sayyid was 15 years old.
"I didn't really know what to do," explains Sayyid. "It's not that easy to get a job, and get one fast." So he asked a friend and the friend suggested that he get some fast money selling drugs. With nowhere else to go, Sayyid set out to meet a local dealer.
Not selling drugs
Yet as fate would have it, he met another friend on the way. "I was literally on my way, and I stopped to talk to a friend and explained what was going on. He told me to try something different, to join the Mountain Interns program, and that they paid interns enough so I wouldn't have to sell drugs."
The next morning, that's exactly what Sayyid did. He enrolled in the Mountain Intern program, joining 20 other students from The Howard High School. Every day, all summer long, and on Fridays and Saturdays during the school year, the Interns worked on Lookout Mountain with Conservancy staff; together building a five-mile trail that will go from the base of the Mountain to the top.
Never giving up
They ripped out vines, and cleaned up old tires and debris. They stacked thousands of recovered bricks and later used them to create an overlook. The program stresses teamwork, communication skills, leadership and self-initiative.
"It was really hard at first. I didn't really know how to get along with people. I mean, where I come from, it's really about survival, not working as a team like that," reflected Sayyid. "It was totally different from anything I had experienced."
Taking care of family
But he didn't give up. He kept on pushing, and he kept on bringing home the money that his family needed for rent and food. "It was a big help at home, but it still wasn't easy. I just kept at it. When I felt down, the Conservancy staff and the other interns would help pull me back up. We really became like another family for me."
Sayyid looks back on the three years he's been with the program with almost a sense of quiet disbelief, stating, "Most of the people in my neighborhood really struggle in high school. If they graduate, that's sort of amazing. It's usually something that doesn't happen."
Leading his class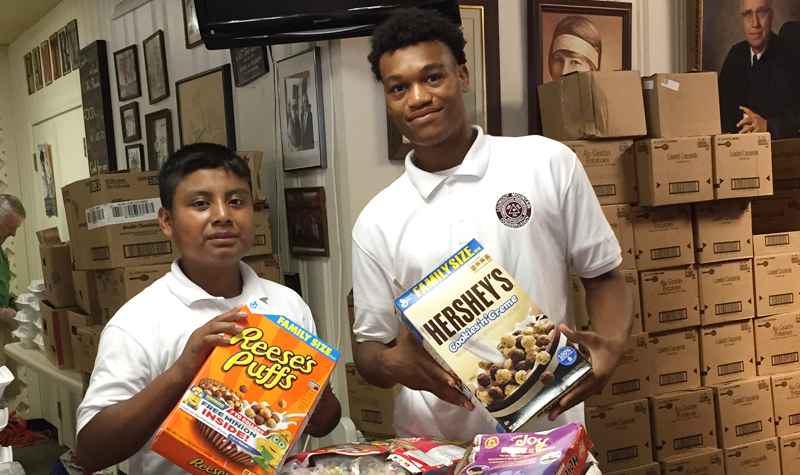 Through mentoring in the internship program, and the partnership with The Howard School leadership and fellow teachers, Sayyid is now leading his classmates in ways that, three short years ago, would have been unimaginable. He's been selected as captain of his basketball team, is in strong academic standing and headed for graduation this spring, and his fellow Mountain Interns have chosen him for the Intern Leadership Team.
As a result, Sayyid is traveling to different areas within the southeast, speaking at events and programs about the Intern and Leadership program and the partnership with The Howard School.
When asked what he sees as the change in him, Sayyid remarks, "I was given a chance, a chance in a place where people really cared and helped me through some tough spots. I want to give that back to others, and I'm planning on going to college. If I can do this, so can others. We just have to give them the same chance, too. For me, I was just one drug deal away to being lost to a different world, and the Mountain saved me."
– Sayyid M.
UPDATE: Sayyid graduated from The Howard School May 2016, and is a freshman at Cleveland State Community College in Cleveland, Tennessee. He plays basketball for the varsity team and is majoring in Sports Management.
---
Thanks to the support of people like you as well as local businesses and foundations, the Lookout Mountain Conservancy continues its partnership with The Howard School. The program is designed to provide both leadership and academic skills and has resulted in 100% graduation rates for those who have attended (surpassing the high school's average). As a result of community support, the program has been expanding every year as funding becomes available. The program was created by Zachary Brown, former Principal of Howard, currently Assistant Superintendent, Hamilton County Department of Education and Robyn Carlton, CEO of Lookout Mountain Conservancy.
In addition, the Conservancy works with over 50 students during the summer to offer paid employment and leadership skills, and provides support and training for teachers who bring their classes up to Lookout Mountain during the school year.