Our Mission
The mission of the Lookout Mountain Conservancy (LMC) is to protect Lookout Mountain's scenic, historic and ecological resources, through conservation, advocacy, recreation and education, for current and future generations.
From Hamilton County, Tennessee to Etowah County, Alabama, LMC works to protect significant scenic, historic and ecological sites by connecting existing conservation areas. LMC provides environmental education and information to landowners and other interested parties about land conservation options. And, LMC promotes greenway development and conservation planning
Contact
For most inquiries, please contact Conservancy CEO Robyn Carlton at 423.424.3882.
If you are looking for other staff members, please view our Staff page.
Important News
Lookout Mountain Conservancy Earns National Recognition
Read all News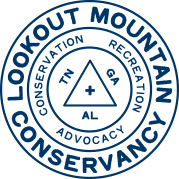 Related Info
Intern and Leadership Program at the Howard School