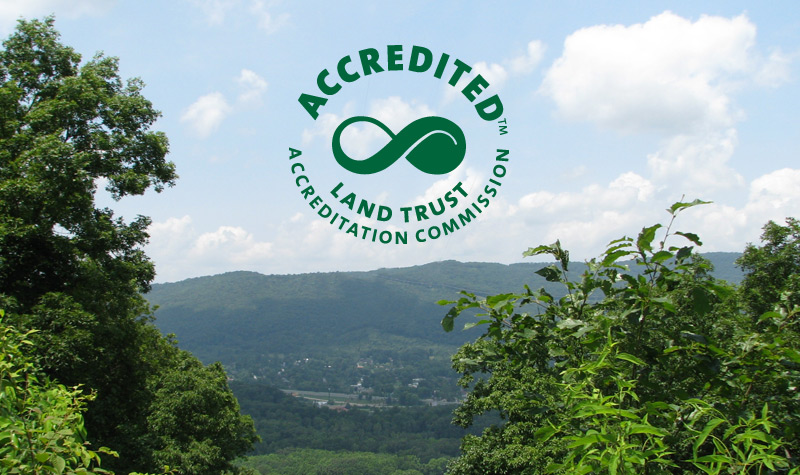 CHATTANOOGA, TN. –
Dr. Chris Moore conserved Long Branch, a residential preserve, along Lookout Mountain a number of years ago to honor the mountain's heritage. The Moore family has been in the Chattanooga area for over several generations. "It was something that ran in our family, this love of the land and our community," reflected Dr. Moore. Dr. Moore wanted to make sure that he partnered with a local conservation group, one that would be around for years to come.
Today, Dr. Moore is particularly pleased after an announcement by the Lookout Mountain Conservancy that it has been awarded National Accreditation by the Land Trust Alliance. Only 230 conservation groups of its type (out of 1,700) from across the country have been awarded accreditation since the fall of 2008. Lookout Mountain Conservancy is only the third conservation organization, known as a land trust, in Tennessee to receive the award.
"It is great news," remarked Dr. Moore. "Lookout Mountain Conservancy's accredited status demonstrates what I have always known. This is an organization that takes local conservation seriously, including all the details needed for permanent land conservation."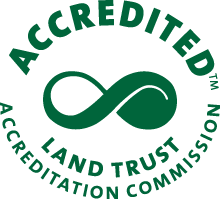 The accreditation process involves the external review of numerous documents and procedures over a 12-18-month period by Land Trust Alliance's Accreditation Commission, an organization specifically established to oversee the conservation excellence of land trusts nation-wide. "As a conservation 'Good Housekeeping Seal' it gives supporters, community members, and foundations like ours, the confidence to know that it is a well-run organization," said Bruz Clark, President of the Lyndhurst Foundation.
The Lookout Mountain Conservancy is a local land trust that works with area landowners to create conservation plans and voluntary conservation agreements. Landowners continue to own the land and manage the land and can sell, lease, give it away or mortgage the land. The property stays in private ownership and on the tax rolls.
In addition, the Conservancy works to establish local trails and parks, working with volunteers and area students to enrich their academic experiences with hands-on learning and education. Landowners can donate land to the organization or, if funding is available, the Conservancy can purchase the land to establish as a park or trail. Most recently, this work has been focused on the John Wilson Park, on the eastern slope of Lookout Mountain working with students in a summer job-corps program supported by the land trust's membership and business partners.
"This is a land trust that is making a difference in our community," reflected Melissa Greever, Head of the Science Department at The Howard School. Mrs. Greever has partnered with the organization for the past two years to bring science, art and personal growth to her urban high school students as well as introduce them to life in the out-of-doors.
"I know that the Land Trust Alliance accreditation program is rigorous in scope, and certification is demanding to achieve, but I'm not surprised" said Mrs. Greever. "Lookout Mountain Conservancy has always been great to work with and it's changed the lives for many of our kids."
Yet there are many different ways to view the Accreditation stamp of approval.
For funders, those groups who help support area nonprofits, it's a welcome statement of excellence and good management.
Peter T. Cooper, President, Community Foundation of Greater Chattanooga, Inc. remarked "this is a major milestone for Lookout Mountain Conservancy and should give community members the confidence to support their excellent work. Think of the parks, children's education programs, trails and access to water they are assisting with. It's amazing when you stop to think about it. We know that there is so much more LMC can do with greater community support."
Kristy Huntley, Program Director of the Benwood Foundation, who works with a lot of small nonprofits in the region says she's seen those which are well run, and work hard to connect to the community, flourish. "Being awarded accreditation is a testament to the organization's rigorous efforts in land conservation", she said, continuing, "for me, it illustrates to the public that the organization has met the high standards in ensuring land protection for future generations."
Those future generations are something that Ron Harr, President and CEO of the Chattanooga Chamber of Commerce, thinks about a lot. The Chamber has been working with local groups to improve the quality of life and economic opportunities and training, and sees the work of the land trust to be part of that solution.
Upon hearing the news, Mr. Harr stated that "the economic vitality of the Chattanooga area rests on a strong partnership between jobs, our beautiful river and mountains, and the recreational amenities that both enrich those of us who live here, as well as bringing in tourists all year long. We need great schools and healthy families, too. Having a strong local conservation group like the Lookout Mountain Conservancy, who cares about people as much as the land, is important. We're delighted to hear that they have received this award."
One of the area's conservation leaders was particularly pleased about the work of local conservation organizations, like the Lookout Mountain Conservancy. "Chattanooga has been blessed with more than a century of visionary land conservation leadership, both through the community efforts and through the leadership of individuals and area nonprofits such as land trusts," states Allen McCallie, recipient of the Trust for Public Land's Douglas P. Ferguson Award, a national award for land conservation leadership.
McCallie continued, noting that "as our region continues to grow and prosper, land conservation is both more important, and more difficult, than ever. The initial conservation work in our area was undertaken at least three or four generations ago, as far back as the 1890s. Lookout Mountain Conservancy is helping to make sure that everyone, from all walks of life, can feel the benefits of land conservation for generations to come. They are doing really important work, right here, where people can feel it in their every-day lives—better health, better school experiences and better recreation close to home."
The connection between people and the land, and conservation and education, is increasingly documented by national and international research.
"When we started, back in the early 1990's, the link between health and conservation wasn't as clearly understood", explained Jon Armstrong, Lookout Mountain Conservancy's Board Chair. "Now, research from the University of Illinois as well as doctors throughout the country are recognizing that conservation—access to green spaces of many kinds on a regular basis—is important for learning, physical health and our overall wellbeing."
When asked what he would say to those in the community about accreditation, Mr. Armstrong quietly remarked, "We are honored to be accredited and to help serve the conservation needs of our community. We are only as strong as our community support and we have been so blessed that so many people have helped out along the way."
Mary Anne Williams, LMC Past President, added, "Lookout Mountain Conservancy has worked to ensure we approached our work so as to adhere to the national standards for land trust operations. It's important, even as a small community-based organization, to make sure that our work for the community stands the test of time."
This coming fall the Lookout Mountain Conservancy will be completing the Civil War historical review on the John Wilson Park extension, thanks to the support of local members and businesses. Founded in 1991, the Conservancy's focus area covers the full 93 miles of Lookout Mountain, from Hamilton County, Tennessee to Etowah County, Alabama.
###
The mission of Lookout Mountain Conservancy is to protect Lookout Mountain's scenic, historic and ecological resources, through conservation, advocacy, recreation and education for current and future generations. The organization provides environmental education and information to landowners and other interested parties about land conservation options. And Lookout Mountain Conservancy promotes greenway development and conservation planning.
About LMC and its work
Contact Robyn Carlton, LMC CEO at 423-322-8053 or visit the website www.lookoutmountainconservancy.org. See national coverage of one of LMC's programs in the "Good Health for All" article on the Land Trust Alliance's website.
About The Land Trust Accreditation Commission
The Land Trust Accreditation Commission, an independent program of the Land Trust Alliance, awards the accreditation seal to community institutions that meet national quality standards for protecting important natural places and working lands forever. The Commission is governed by a volunteer board of diverse land conservation and nonprofit management experts from around the country. More information is available on the Commission's website, www.landtrustaccreditation.org.
About The Land Trust Alliance
The Land Trust Alliance is a national conservation group that works to save the places people love by strengthening conservation throughout America. It works to increase the pace and quality of conservation by advocating favorable tax policies, training land trusts in best practices and working to ensure the permanence of conservation in the face of continuing threats. The Alliance publishes Land Trust Standards and Practices and provides financial and administrative support to the Commission. It has established an endowment to help ensure the success of the accreditation program and keep it affordable for land trusts of all sizes to participate in accreditation. More information can be found at www.landtrustalliance.org.
For more information related to conservation and health, see:
Kou, Francis. "Science Suggests Access To Nature Is Essential To Human Health" Science Daily (Feb. 19, 2009)
Ptak, Elisabeth. "Good health for all." Land Trust Alliance Journal Saving Land. Spring 2013. www.landtrustalliance.org