Intern & Leadership Program at The Howard School
Lookout Mountain Conservancy works in partnership with The Howard School, local parents, foundations and supporters to create what is rapidly becoming a nationally recognized program using Lookout Mountain as a classroom, to teach critical leadership, academic, social and conservation skills.
How it started
At one time, students at The Howard School had nowhere to go when things got tough at home or at school. As a result, too many students, while talented, were not thriving in school. It just wasn't the right learning environment.
Others found that they couldn't relate to school. It was too removed from their everyday experience in their community—it just didn't seem real, didn't make any difference in their lives. For too many, school wasn't something to celebrate, it was just another way to mark time.
That has changed
Thanks to Lookout Mountain Conservancy's partnership with The Howard School, and under the leadership of Robyn Carlton, CEO, and Zachary Brown, former Principal, up to 20 high school students and six college students (who have continued in the program depending on funding available) now find intensive learning opportunities in a team environment using Lookout Mountain as a classroom.
Filling a need
The program involves working intensely with students throughout the school year on academics, social skills, leadership development and conservation skills. Due to the need and popularity of the program, participation has been expanding every year as funding becomes available.
Funding is provided by foundations, community organizations and individual donors covering the $9,000 per student per year necessary to provide equipment, supplies, food, mentoring, intern wages and leadership training.
How it works
High school students apply to the program after a week long trial period over spring break. A rigorous application process including letters of recommendation must be submitted to the Conservancy, after which candidates are selected for peer interviews. Once final selections have been made, students are notified and enrolled in the program as paid interns. Work is performed on Saturdays, school vacations and entire summer vacations. Prior to consideration, students must have completed the 9th grade Environmental Connections Program.
Read more about the success of this program
Applying to the Intern & Leadership Program
Related Info:
Howard School students also work with the Conservancy in a variety of other ways...
Environmental Connections Program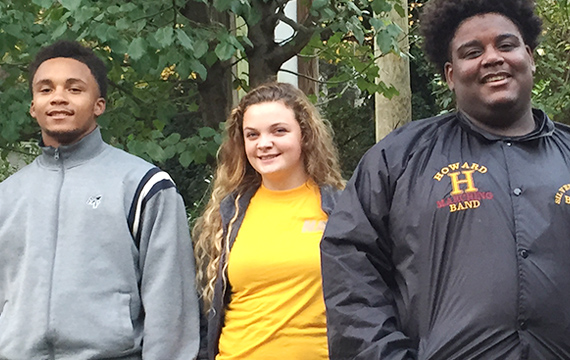 "When I became a Mountain Intern, I really had to learn how to cool down and channel my energy and anger into something positive. In this case, it was working with my classmates up on the Mountain and learning new things like how we can solve a problem together, or a new way of approaching a challenge.
Those skills I've learned up there on the Mountain are going to be something I'm thankful for, almost every day."
– Alethea
Class of 2017