Every other Friday on Lookout Mountain, science and land conservation become one when the Howard School's ninth grade students and their teachers join Lookout Mountain Conservancy staff to work together outside.
A gateway to the outdoors
The Environmental Connections program is an important component of the Howard School's environmental science curriculum, a mandatory class at this public high school. For most of these students, it is their first chance to truly engage in science, learning about ecology, botany, geology and hydrogeology in practical, real-world ways. Lookout Mountain frequently becomes their gateway to regular outdoors experience.
Real-time, real-life science
Together with upwards of 150 students, Lookout Mountain Conservancy staff, volunteers and environmental science teachers remove invasive plants, assist in habitat restoration and consider real-time, problem-solving activities related to science and the landscape of Lookout Mountain.
Learners encouraged to apply
Students who are interested in continuing their learning and leadership work with Conservancy staff are encouraged to apply to the Intern and Leadership Program.
Related Info:
The Success of the Intern & Leadership Program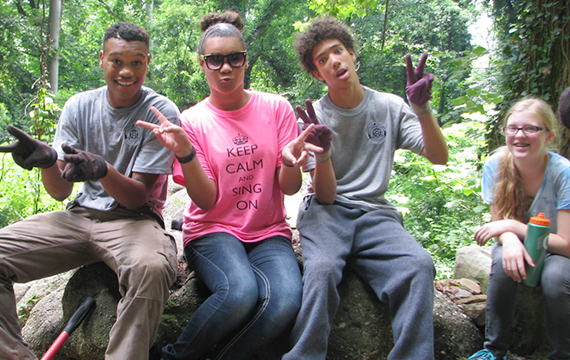 This program has made all the difference for many of our students who otherwise wouldn't see how science really works, and how it impacts their lives and their community.
As teachers, we love this program—it re-engages the kids in a way that many never forget.
Jessica Hubbuch
Howard Teacher