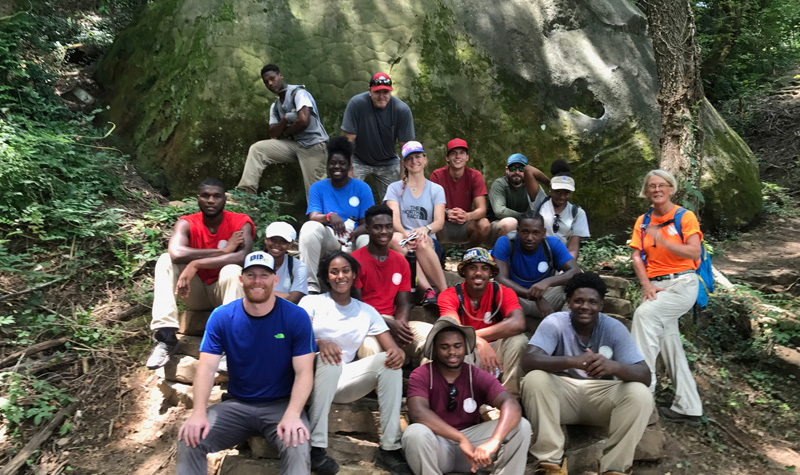 What an incredible summer we've had up on Lookout Mountain.
Thanks to people like you, over the past 10 weeks the Lookout Mountain Conservancy Leadership Interns have stepped out from behind what previously, for many, was a lack of confidence, trust, and self-awareness and led a summer conservation youth program with over 600 other students.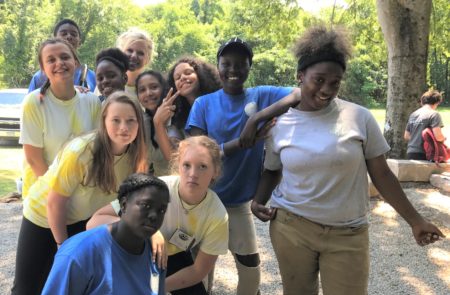 It's part of the overall Leadership Program that growing community support is making possible.
Rather than lecture local youth about what they should be doing, or how they should be leading and modeling leadership behavior, these Interns demonstrated it every day by inspiring, teaching, encouraging, and supporting other teen volunteers from around the country.
Many of the youth came with their churches through the nonprofit Youth.  Others came from around Chattanooga.
When leadership means sharing your heart and your talent
If you were to pull up to the property in the morning and listen closely, you'd hear the sounds of laughter and weed whackers chopping up invasive vines. You'd hear discussions about how to tackle moving large rocks safely and the importance of teams.
But perhaps most importantly, you'd hear the Lookout Leadership Interns share their knowledge in a way that was inspiring and motivating, capturing the seriousness of the tasks at hand, like safety during orientation, with a call to action of "Have fun!  We're here to work, but we want to get to know you and have fun too."
Surpassing expectations: Building a sense of community, getting to know each other
For many of the visiting volunteers, this was the first time they had experienced a project like Lookout Mountain, let alone work side-by-side with urban youth. Likewise, for our Interns, many have never had the chance to hear firsthand what it's like in Texas and Wisconsin. And that's also what this summer program is all about. It's a great way to come together, build new friendships, and empower young people in a way that technology can't.
The Park gets a boost
Together, the visiting youth and the Leadership Interns made amazing progress up on Lookout Mountain. It was hard work. Often hot, muggy, and muddy. But they never gave up. And the results are impressive.
Over four acres of brush and vines were cleared to establish a pollinator garden at the main entrance to the park, helping to restore the natural habitat of the Mountain.
Over three miles of biking and hiking trails were cared for, including the removal of garbage and litter (literally over a ton of garbage was taken off the land).
The bouldering park's four main boulders now have flat landings that will provide a safer access for climbers, pursuant to specifications designed by professional climbers and the Access Fund.
And, with the help of professionals* who volunteered their time and talent to teach the interns, a new community vegetable garden complete with raised beds, irrigation and fencing was created.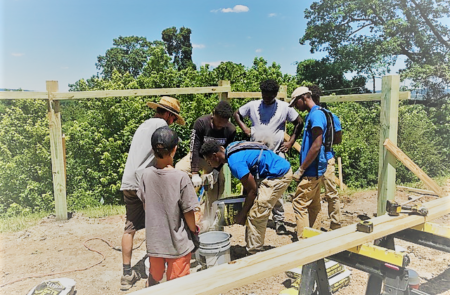 It's because of people like you
Sometimes it's easy to write off today's youth, to shake one's head at what may seem as a never-ending obsession with phones and technology, of shutting out the world and not giving back to the community. But thanks to you, hundreds of youth had a different experience—one that will last a lifetime.
As one young person from Youth Works said at the end of a long day, "I can't believe we did all of that, it's amazing to see what we can do in a few hours."
Together, these young people helped transform the Mountain. They gave their time, talent and compassion to our community, all summer long. And they built friendships and experiences that strengthen our collective effort to inspire the next generation of leaders.
Many area youth were on the streets and dabbling on their phones because they didn't have access to a program like this. But thanks to you, the Lookout Mountain Conservancy Leadership Interns were up there on the Mountain, making a difference, building new skills and sharing their passion for the land. Thank you for helping to provide these students with a life changing summer.
*Special thank you to the Graham Vannoy Contractors, Wade Anderson, Barry Smith, Kathleen Robinson, the Lookout Mountain Garden Club, and the Community Foundation of Greater Chattanooga for playing major roles in bringing the vision of this garden into fruition