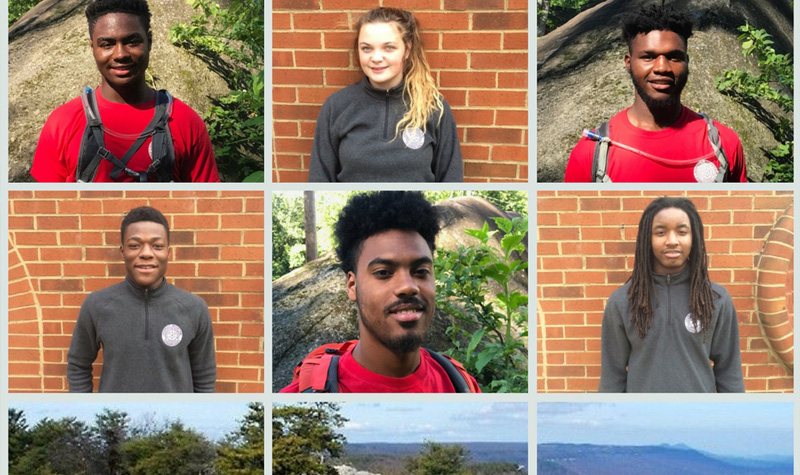 The summer months of the Intern Program ended last week.  As we transition into school, life is looking very different for the six graduates who finished their time at The Howard School in May.
"I can't believe that I leave for college in a few weeks," reflected Cameron Thomas as he thought about the summer.  Cameron's comment is the overall sentiment of the fellow Interns that graduated with him.
For many high school students, their families expect them to graduate. Their parents did, and so did their grandparents. High School graduation is part of life.
However, these students are some of the first in their family to go to college, and half are the first in their families to graduate high school.
Finding support amongst challenge
Students like Cameron, faced challenge after challenge. They grew up in a world where survival was foremost; school was secondary. Their families faced economic hardships, in which getting to their job, let alone having one, was a challenge. They often found that going to school was seen as a dead-end road by their peers, where bringing in income, in any possible way, was what was needed to keep the lights on in their families' homes…literally.
When Umar Muhammad thinks about where he was four years ago, his future did not sound promising, "Starting high school, I did not know where I would end up.  All I knew was that I needed to help my family pay the bills.  The job I was able to get with LMC kept me out of gangs and making money on the streets, which felt like my only option."
Beating the odds
The six seniors at The Howard School who graduated from high school—and the Conservancy's Intern and Leadership Program—beat the odds.
Many of their peers did not graduate.  In fact, Howard's graduation rate is 63%, whereas in the past five years, the Interns of LMC currently hold a 100% graduation record.
Across the United States, 11% of urban youth complete college.  At Howard, that number is 1%.
Out of the six recently graduated Interns, five have chosen to further their education and pursue bachelor degrees, and one has chosen to enlist in the National Guard.
The Mountain creates the change
Ask any of these graduates about what helped them get through high school and pursue their dreams, and they will talk about the support of the Intern and Leadership program.
"You might not believe it, but working up on the [Lookout] Mountain really is what helped me through high school. That place became a family to me; when things were tough at school, they kept me going. I had time outside to destress and to focus," explained Umar.
Feeling comfortable up on the Mountain is part of their sense of confidence and self-esteem. Thousands of hours of trail building, habitat restoration and team work, discussions about how to manage anger and channel frustration into academic success have paid off.
A dream becoming reality
These six young adults now have a different outlook than they did four years ago.
They have goals, dreams, and the support to get there. That's because the Conservancy's program stays in touch and provides mentoring as they apply for jobs, college, technical school, internships, or the military.
"I've been saying for the past few years that I want to major in Criminal Justice, and now I'm headed to school to do that.  I know that college is going to be hard, and that's why I still need the program encouraging me to stick with it," said Alethea Frady.
After Vincent and Cameron attended their orientations, they both returned stunned: "It's a lot more real now, I'm excited and nervous to go."
Thank you for helping to create this reality
As these six students head on to their next chapter, we here, at the Conservancy, wanted to say thank you. Thank you for believing in the power of conservation to change lives. Thank you for believing in these students and their families. Thank you for your ongoing support and commitment to the Mountain and those who need it most.
Together, we are making Chattanooga a better place for everyone to live, work, and play.  Thank you.
Class of 2017
Alethea Frady: Chattanooga State, Criminal Justice
Cameron Thomas: Austin Peay State University, Communications and arts: Broadcasting and Media
Jwun Gamble: National Guard
Juwan Hill: Middle Tennessee State University, Undecided
Umar Muhammad: Tusculum College, Undecided
Vincent Bowling: Middle Tennessee State University, Mass Communication A/V Production