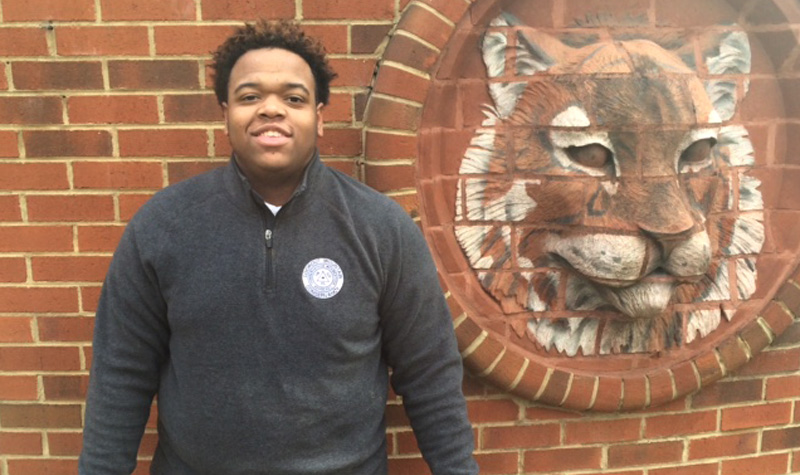 (In Marquis' words)
I don't know what your school was like, but when I started high school, there were more kids in suspension than there were in classes. I don't think I'm exaggerating. It's just the way it was because of all the fights.
You'd go to school and watch your back. It was chaos, really. People like me just tried to keep our heads down and stay out of the worst of the trouble.
You can't really learn in a place like that. It's too distracting, and if you don't feel safe, you have to stay on alert—something that doesn't allow you to focus on your school work.
But then Mr. Brown, our principal, and Mr. Taylor, our assistant principal, came to our school, and things began to change. I was accepted as a Mountain Intern, and for the first time I began to feel safe.
We take care of each other
The Conservancy staff made it clear that this was a different place. The Mountain is a place where we work as a team, where we work as a family. We don't call each other names. If someone needs help, we help them; we don't let them struggle.
We take care of each other, we have each other's back, and we are a band of brothers and sisters. I tell people in the program things I wouldn't tell anyone else because I know they won't hurt me with it.
Up there on the Mountain, when we are working together building the trail, it's about what can be done, not where you have failed. It's about seeing the potential in people and helping them get there. I've taken this attitude back to school and it's paying off. When you feel safe, when you can learn, when you can show people it's OK to try, amazing things can happen.
I didn't think I'd make it through high school. But I am, and I've got the Mountain Interns to thank for it.
– Marquis C.
UPDATE: Marquis is completing his freshman year at Chattanooga Community College. He is the first one in his family to go to college. He continues to be in touch with the Program and will return to work full time with the Interns and college students this summer.
Mr. Brown has been promoted to Assistant Superintendent of the Hamilton County Department of Education. The Program now works closely with the new Executive Principal, Chris Earl, and The Howard School teachers. We could not do this work without their partnership and support. 
---
Thanks to the support of people like you as well as local businesses and foundations, the Lookout Mountain Conservancy partners with The Howard School and its students, year-round; the program has been expanding every year as funding becomes available.The program is designed to provide both leadership and academic skills and has resulted in 100% graduation rates for those who have attended (surpassing the high school's average). There is a waiting list of students who would like to join the program. 
The Conservancy works with these students during the summer to offer paid employment and leadership skills, and provides academic and personal support over the school year. We also provide training for teachers who bring their classes up to Lookout Mountain during the school year.