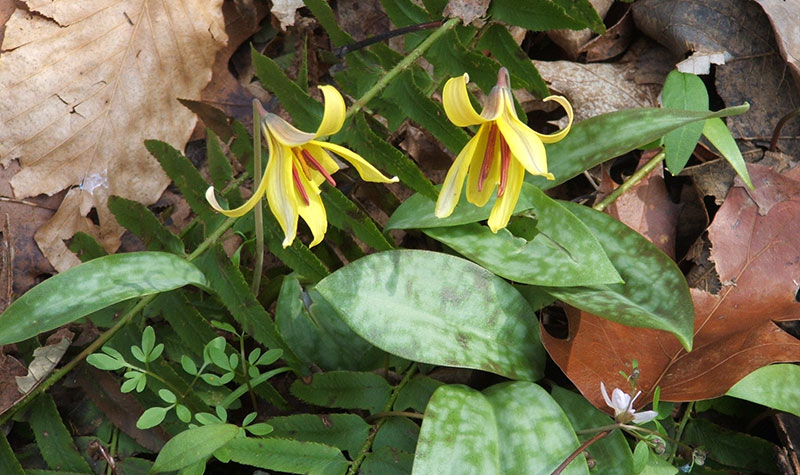 The trails are off to a great start
Lookout Mountain's John C. Wilson Park is taking shape this spring thanks to the hard work of volunteers like The Chattanooga Christian School, The McCallie School, Tennessee American Water Company, the Rotaract Club of Chattanooga, and over 20 other individual volunteers, working alongside The Howard School Leadership Interns.
"Many hands make light work" has been one of the repeated mottos this spring as young volunteers watch what happens when their group sets out to take on a project.  One CCS student, Brayden, reflected, "I didn't really know what that meant, but it makes sense now."
Brayden isn't alone in his feelings, or in the effort he put in to help improve the seven miles of trails in the Park and chop down invasive plants that ruin wildlife ecosystems for birds like the American Goldfinch.
Inspiration, friendship and changing the Mountain
So far this spring, 108 people ranging in age from 12 to 70 have donated 425 hours of their time and talent up on the Mountain.
"Seeing volunteers come out from all over the Mountain, and Chattanooga, is really encouraging.  It's inspiring to see people give back to the community, and makes me want to do the same," observed Ashley Cofield, Lookout Mountain Conservancy's staff person who oversees the volunteer program.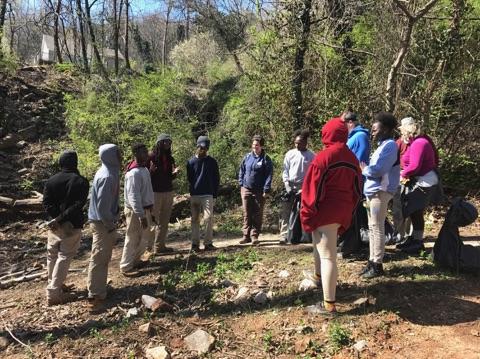 Jen Politano, a Board Member of the Conservancy, reflected over her experiences volunteering, "Volunteering with LMC is addicting; it is not only fun but extremely rewarding. People are always impressed that I give so much time volunteering at LMC, but believe me, the pleasure is all mine. I don't think these kids will ever understand the profound impact they have made on me. These kids are contagious in every way possible. They're fun, smart, and witty despite the everyday challenges they face."
Looking forward
In May, after graduation and the end of the school year, The Howard School Leadership Interns will be partnering with Youth Works, and others, up on the Mountain to continue to restore the area's habitat and improve the trails.
Thanks to people like Brayden and others who come from area schools, churches, community groups, and businesses, and work side-by-side with the Interns, we are making this Mountain, and our community in Chattanooga, a better place for people and wildlife.