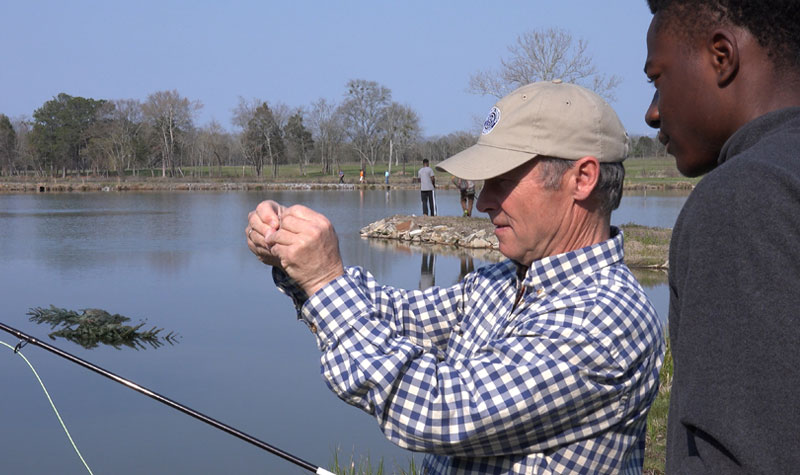 Perk Perkins has traveled all over the world as part of his responsibilities as CEO of Orvis, one of the premiere outdoor clothing and equipment retailers in the country. This past week his travels led him to Chattanooga, where he shared his experiences with The Howard School students enrolled in the Lookout Mountain Conservancy's Leadership Program. He also provided the students fly-fishing lessons.
"Orvis believes in conservation that changes lives, and this is a great example of doing just that. It's impressive that a small nonprofit like the Lookout Mountain Conservancy and The Howard School would realize that the land and water are critical to our youth and our community and create a program that puts them first," explained Mr. Perkins.
Learning outdoors
Anticipation for the opportunity ran high, as many students recognized that this was a unique experience for them to learn from one of the best in the country. "I'm going to have a hard time sleeping tonight, I'm so excited about fishing tomorrow," said Sunday Dau, a junior at The Howard School, and a Leadership Intern with Lookout Mountain Conservancy.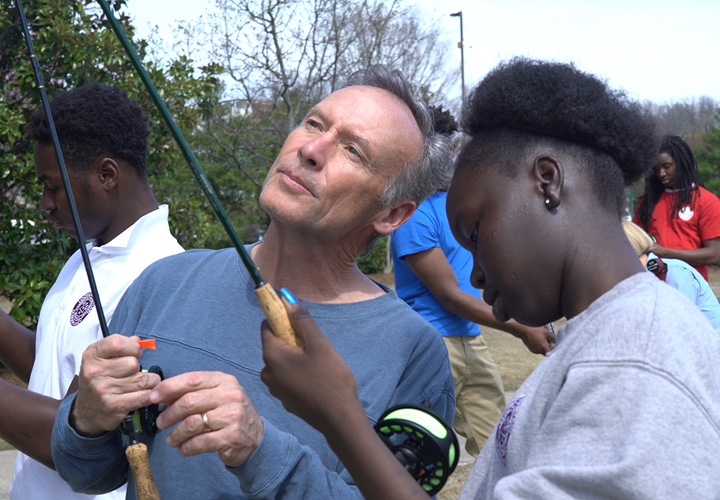 "The students haven't had an opportunity to fly fish before—and we look forward to establishing this as part of our out-door experiential training. It's a great way to learn about the ecology of a river, Lookout Mountain's watershed, as well as connecting to the beauty of our area," explained Robyn Carlton, CEO of the Conservancy.
Fly fishing for everyone
A number of volunteers from the community were on hand as part of the training as well. "We really appreciate them showing up and being part of this amazing day with Mr. Perkins," said Ms. Carlton. "They were extraordinary. They were so present, and genuinely into teaching these students how to fly fish and share their love for both the sport and the great out-doors."
"Flying fishing is technical, many people feel it's the hardest way to fish. When you add the technical aspect with the challenge of finding your fish, you are creating a tool to build a student's confidence with the challenge of navigating life. These students face tremendous challenges every day, and building resilience to give them a sense of hope for a better future is a big part of what our program is about," explained Ms. Carlton.
A culture of quality and integrity
Orvis donated the fly fishing equipment to the Lookout Mountain Conservancy as part of their leadership and experiential programming. Perk, as he is known, has built a strong business culture of quality and brand integrity throughout the multi-channel retailer. Orvis has prospered and earned the industry's highest awards in both catalog and Internet marketing.

Mr. Perkins came to work for Orvis in 1977 as the Editor of the Orvis News, Catalog Copywriter and Manager of Export Sales. He has held many other positions that have allowed him to experience the company first hand, including Manager of the Orvis San Francisco store; President of Orvis UK; Vice President of Operations; President of Early Winters, an Orvis subsidiary; Vice President, Merchandising; President, Orvis Mail Order; and President and CEO of The Orvis Company.
Out-of-doors benefits
Mr. Perkins is an avid and accomplished fly fisherman, wingshooter, canoeist, cross-country skier, and bird watcher. He dedicates considerable energy to conservation and has led the company's renowned support of conservation (5% of profits) with the mantra "If we are going to benefit from our natural resources, we must be willing to take action to protect them." He is currently serving on the boards of the World Wildlife Fund, The Nature Conservancy of Montana, and the Cornell Lab of Ornithology.
"I really enjoyed spending time with the Leadership Students of The Howard School and Lookout Mountain," explained Mr. Perkins. "I'm a big believer that conservation and the out-of-doors should benefit everyone, and the Lookout Mountain Conservancy's program is demonstrating that."
A national model, using conservation tools
Under the Lookout Mountain Conservancy's program, funded by local businesses, individuals, and foundations, The Howard School Students are selected for an intensive academic and leadership program. The youth are paid a modest stipend as part of the program, working school breaks and summer vacations as part of their training.
The program's approach of using the out-of-doors as an intensive education and community-building experience has paid off. All seniors in the program have graduated from high school compared to the school average of 63%. These students have gone on to college or technical school, often the first ones to do so in their family, enrolled in the military, or are employed locally.
The Lookout Mountain Conservancy partnership with The Howard School is regarded as a regional and national model for using conservation as a tool to inspire, mentor, and accelerate academic success with students who are less likely to attend college or post-graduation training. The Conservancy is supported by local foundations, businesses and individuals. It hopes to accept an additional seven to ten students this coming fall, funding permitting, bringing the total students enrolled in the program to 33. There is a waiting list for the program.