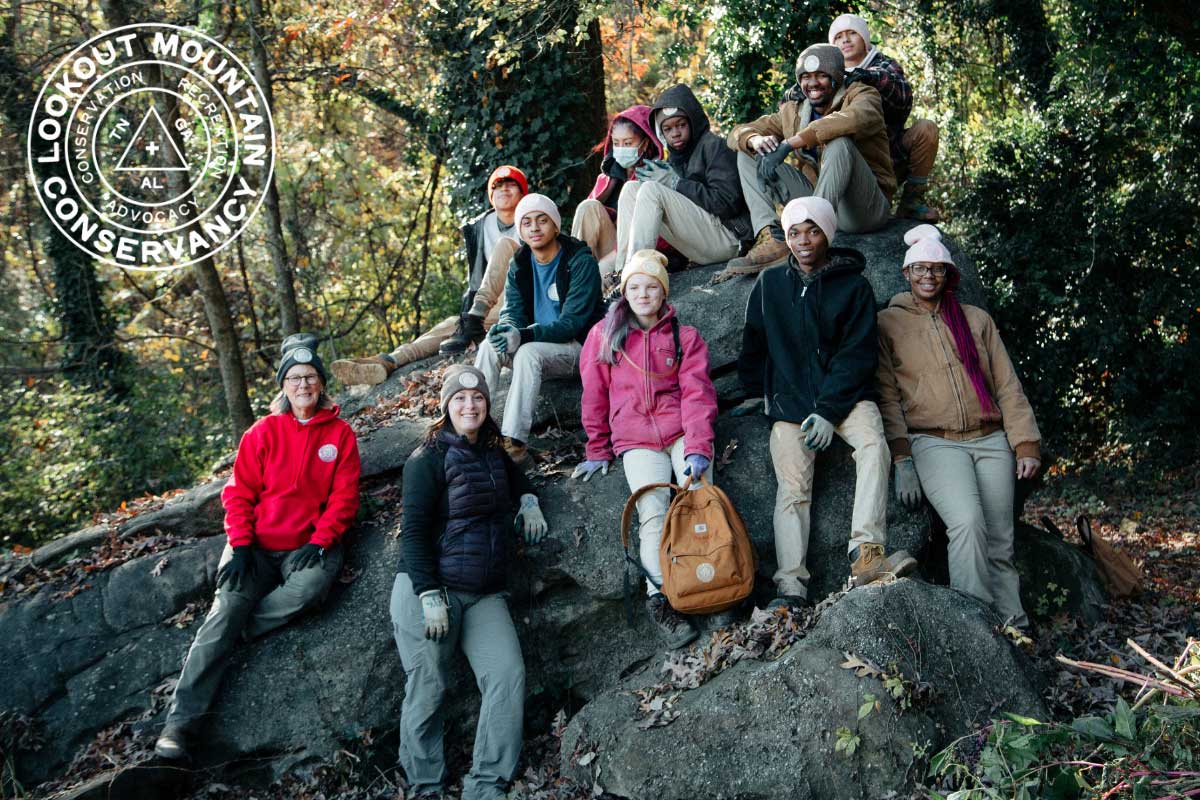 Reflecting on this past year, we feel grateful. Although the pandemic still threatens us all, we have pushed through to keep doing the important work that matters in and for this community. Against the odds, we safely took on new capital projects, expanded programs, and changed lives — all thanks to our dedicated supporters, donors, and volunteers.
Milestones worth Celebrating
It was a year of many milestones. We celebrated our 30th anniversary as a land trust, as well as our 10th anniversary of the Intern & Leadership program. 2021 also marked our very first carbon offset project through City Forest Credits. To top it off, thanks to several generous gifts, we built a state-of-the art greenhouse which takes our urban gardening to the next level. It's a dream come true.
Partnerships and Events

Through work with our partner organizations, we gained even stronger bonds. Thanks to the Access Fund and Southeastern Climbers Coalition, we hosted the second annual Wauhatchie Boulderfest at our 50-acre urban park.
Plus, because of the stalwart dedication and knowledge of local climber and realtor, Mario Morante, we also produced the first official bouldering guide for the Boulders on Old Wauhatchie Pike, which was a huge hit at the event. Boulderfest offered us yet another opportunity to grow community and share the gift of this unique place that we are proud to protect with many new friends. We are so excited to see this event become a staple on the Chattanooga event calendar.
Thanks to You
We launched our first major social media campaign for Giving Tuesday, and with the help of a $5,000 match from a generous donor raised just over $10,000 in a single day. The support we received from folks across the community was amazing. The best part was seeing donations of all sizes, and we appreciated every gift, large and small. People donated whatever they could to help us meet the match, and support our projects — and it showed.
Speaking of gifts: our volunteers. We have been blown away by the number of volunteers that came out in 2021 to help us tackle big projects and remove invasive plants. Employees of Volkswagen, Covenant College, Pinnacle Bank, and Starbucks, and the Rotary Club of Chattanooga have all been incredibly generous with their time and energy this past year. Plus, 2021 marked 10 years of service for our longtime volunteer, and devoted master gardener, Kathleen Robinson. We are so grateful.
The Interns Making Us Proud
The Graduates
The interns are doing amazing things, on and off the Mountain. Tay Sailes completed a work-study with Shaw Industries where he learned more about becoming a mechanical engineer and will be continuing his studies at UTK. Jennifer Escobar finished her first semester of college and enlisted in the U.S. Army where she hopes to push herself and become the best person she can be. Kobe Prater excelled in his first semester at MTSU and is ready to start the second half of his first year.
The Seniors
Amy Xiloj is in the top of her graduating class at the Howard School and is already receiving acceptance letters from her top college picks. JaMaal Macon is maxing out his senior year by playing sports, leading in student government, and setting an example for his peers. Ramiyah Southers is working two jobs, doing well in all her classes, and is on track to graduate with all the credentials to become a CNA, which she plans to do while pursuing a degree in nursing.
The Up-and-Coming Crew
Our younger interns are building trust within the team, growing friendships, and evolving into leaders themselves. It is a truly special experience to watch and be part of this process. The balance between the mountain, nature, shared experiences, and the interns all work together to create amazing things.
Over winter break we were so fortunate to have Tay, Kobe, and Jennifer return to work. There is no substitute for the effect that they have on the junior interns. Seeing older students reaching their goals and living their best lives gives the other interns the opportunity to see that anything is possible. They have our full support.