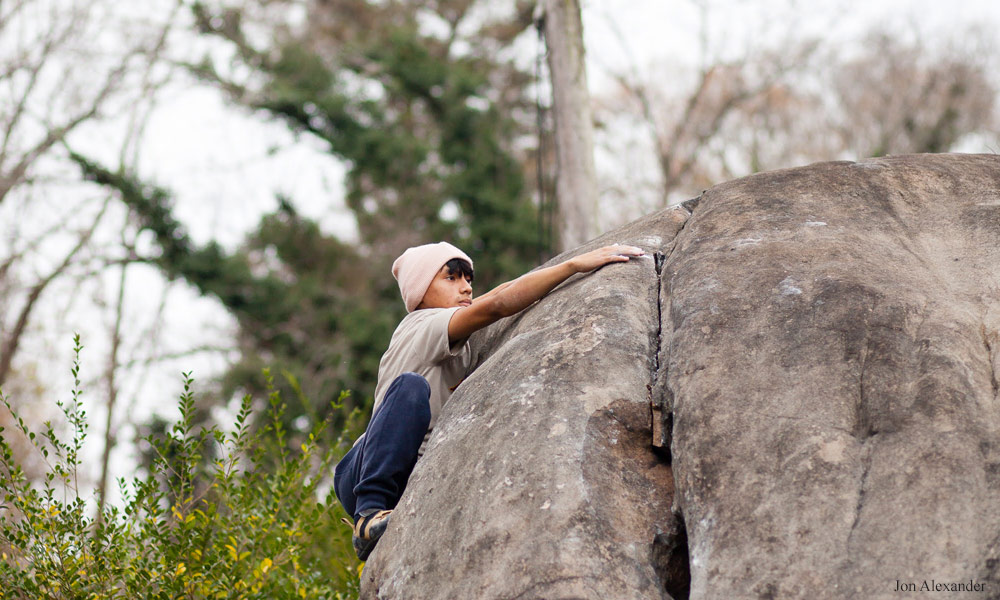 Thank you to everyone that came out for Wauhatchie Boulderfest!
The Access Fund and Southeastern Climbers Coalition partnered with us again this year to host our second annual climbing competition at the Boulders on Old Wauhatchie Pike. Wauhatchie Boulderfest 2021 was a huge success thanks to their help and the support of our generous sponsors. Not only did we have an awesome day, but with registration fees, LMC swag purchases, raffle tickets, generously donated prizes, and donations, we raised $3,000!
Our hope for this event was to bring attention to our unique urban park and to strengthen community and focus on inclusivity. Climbers of all ages and skill levels were welcome to participate. The competition was based on endurance and climbers were challenged to do as many climbs as they could in three hours. The rules were read, the clock was set, and they were off! There were scraped knees and sore hands, both a sign of a good day climbing, and at the end of the day, everyone was feeling pretty great!
When the time was up and the score cards were being tallied, everyone enjoyed some local food courtesy of California Smothered Burrito, local brews by Naked River Brewing Co, Straight to Ale, and Chattanooga Brewing Co., and local views, courtesy of Lookout Mountain. Participants were placed in one of three categories, men, women, and boys (no girls at the comp this year.) Each of the winners received an assortment of prizes and swag provided by local businesses and climbing organizations.
We were so happy to see people of all ages enjoying the park that our interns work hard to maintain. Every person and furry friend exploring the trails and climbing the boulders brought joy to our hearts. That's what it's all about. One visitor from Memphis said he had never seen a park like ours before and shared about his experience on Instagram saying —
"The young interns at Lookout Mountain Conservancy have really helped develop this place into a beautiful and safe bouldering destination and that should mean a lot to all of us.." -Tim Hathcock
After listening to the climbers from the last competition, we knew we needed to create a guide for the boulders in our park and we were proud to debut our very own bouldering guide at the comp last weekend. This comprehensive guide was developed with the help and expertise of local realtor and climbing enthusiast, Mario Morante. The guide is now available for purchase on our website and every dollar will go towards supporting the students in our Intern & Leadership Program and the maintenance of our trails and bouldering park.
One of the best parts about the event was seeing Hector, one of our interns, climbing on the boulders that he and his peers have made so safe and inviting for others. As we strive to make the outdoors equally accessible and a place that all people can feel both safe and comfortable, we are reminded of why this is so important.
Boulderfest was just another example of the power of community and collaboration. We can do so much more — together!
See you all next year!
Thank you to all of our sponsors!