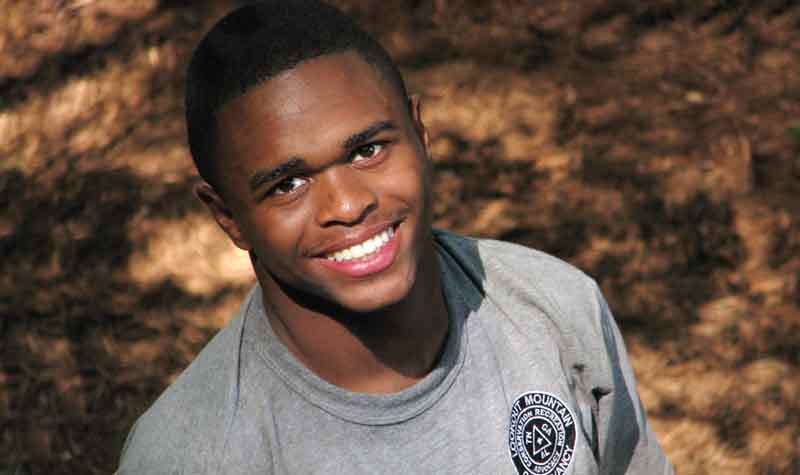 Taking a leap of faith: From The Howard School to an Internship in Africa
If you knew me ten years ago, you'd know that I was a pretty silly kid.  I liked to play a lot, just trying to make others laugh and feel better.  I was pretty go with the flow, and didn't really know what I wanted to do, even into high school.  I had my mom, and church family, telling me from a very early age that I should go to college.  So, I went along with it, but didn't really have much purpose for it yet.
I got involved with other programs, like Upward Bound that helped expose me to travel and new experiences.  I have been fortunate to have these voices encouraging me.
Once I became a part of the Leadership Program at the Conservancy, Ms. Robyn and the other Interns encouraged me to go to college as well. What I learned from LMC, is that if I can push myself out of my comfort zone there, then I can do that in other places too.  When I first started working there, I didn't like bugs, and wasn't comfortable in the woods, but now I can relax outside.
When I got out of my comfort zone, it just encouraged me to do it more.  I knew that I could and that it would help me learn new things.  While I still love to make people laugh and feel better, I have found a direction that I am fully focused on, thanks to the encouragement and challenges that led me to this point.
My mom didn't expect this
When I told my mom that I am going to Africa for the fall semester of my junior year in college, she did not sway as much as she did two years ago, as she prepared to send me off to Knox College in Illinois.  Just going to college has been a big adjustment for her, for me to go so far away from the family.
That's because going to Atlanta for a weekend trip was a big deal growing up; my family didn't consider traveling across the country let alone traveling to new countries. It just wasn't part of our reality.
My mom was the voice pushing for me to finish high school, go to college; wanting me to do what she hadn't had a chance to do, and finding a path of success in new ways. But I don't think that she expected this.
The big change happened my freshman year at Knox College, I took an International Development course.
What a totally new experience for me. A spark ignited while I took the class and I decided that I wanted to travel, to give back to the world, something I had learned at the Lookout Mountain Conservancy's program up on the Mountain.
My teachers recognized my passion and my first travel experience was to Sri Lanka during the summer between my freshmen and sophomore year to visit a classmate from Knox.
And I have actually applied to another study abroad semester in Botswana! So I will spend my Fall in Cameroon, and my spring semester in Botswana.  A whole school year in Africa!
Showing others what is possible
I don't know anyone from my high school who has traveled abroad as part of their education.  For that matter, I don't know a ton of kids from my high school that went on to college. When I've talked to my friends from high school, and students who are still in high school, they think that they have to be really smart to go to college and to do the stuff that I am doing.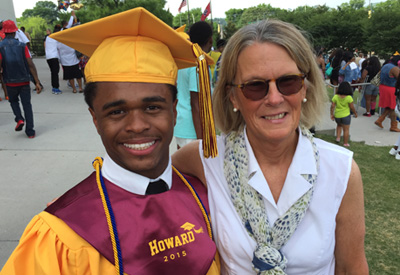 I just tell them that they have to work hard and put themselves out there.  I know now why pushing yourself is important, but before I tried, it didn't make much sense. That's one of the reasons why the Conservancy's Intern program was so important to me. They helped me and the other Interns think about new things and how to push ourselves.
In Cameroon, I'll be continuing my education through classes and an internship in the city of Buea.  I'll be living with a family and working on my French as I learn about practical approaches to globalization and development.  They call Cameroon "Mini-Africa" because it has all the different environmental regions of Africa.  As part of this program, we will get to climb mount Cameroon in a four-day camping trip.  I've never done anything like that!
A future I never would have imagined
I'm really excited about the potential of spending my spring semester in Botswana.  I will be taking classes at the University of Botswana.  The scholarship that I am applying for, to cover the expenses of the program, has a service portion to it.
When I come back to Chattanooga after my junior year, my plan is to talk with seniors and college freshman at the Internship Program and other organizations within my community, to let them know that they can do this too.  I actually had my first talk with a class of Howard seniors at the beginning of this school year.
I will help connect them with the resources that my professors connected me with.  If all goes well I want to join the Peace Corps after I graduates and pursue youth and international development projects.  With that experience, I hope to apply for grad school and become a professor one day to encourage others to step outside of their comfort zone, like I have.
My mom won't know what to think, but I know she'll be proud. It's a long way from my first thoughts of considering college which then seemed like an enormous challenge just accomplishing that.
– Domanique R.