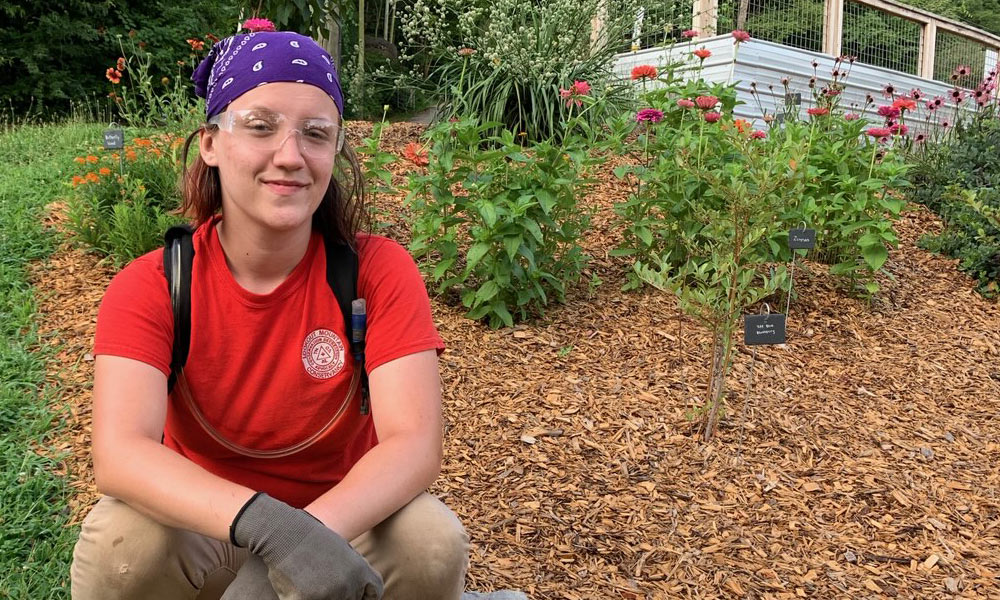 I remember the day I was accepted into the Lookout Mountain Conservancy's Intern & Leadership program. I didn't know what to expect, but I'd heard a lot about it. Some of my friends had siblings who had participated in it a couple of years ago—I knew it was going to be a stretch for me.
But I wanted to grow. I look around my community and I see so many folks who didn't get a break; they didn't get the opportunity to push themselves to try new things or the guidance to excel in school. Some of them didn't even get outside in nature much.
That's why I joined this program.
I had to prove it to myself
When my dad found out I got accepted to the program he was surprised and confused about what the job was about.  After I explained to him about the program, he could see how happy and ready I was to work.
I wanted to see what I was good at and help my community. Joining the Lookout Mountain Conservancy's team helped me realize that I could help my environment and push myself to try new and difficult things.
I was really surprised after the first couple of weeks in the program because it was more than what I expected.  I learned how to do so many new things and experienced so many different opportunities, but it was very difficult to adapt to my environment.
We ripped out invasive vines trying to create better habitat for the wildlife. We'd load up rocks and wheel them up to the bouldering site where we were building a landing area under some of the boulders for safety and to reduce erosion from heavy rains. We'd hike the trails and make plans on how we would build them, and repair them, in a manner that would look good and be durable.
It's so hot…
There were times when I wanted to give up. It's been so hot. Can you imagine how tired I was? We all were. All of the interns put in long, hard, days working together ― figuring it out.
I would say the hardest project for me as an intern has been building a rock wall and making it stay up and making it stable.  We kept having trial and error building the wall, because if we walked on top of the rock wall and it wasn't stable, we had to start over and find the perfect rock to make the best fit.  If it didn't move, we knew the job was almost complete.
It seems funny now, but I learned a lot of life lessons that are also helpful in school.
Working as an intern, you realize that things aren't going to go as planned.  It's like a puzzle.  You have to find the right piece to complete your journey.  Some things aren't going to be perfect, but once you slow down and think of new approaches to the problem, it will get easier.
The Mountain is family
That's true in school, too. Just like on the Mountain, where we all have to slow down and think about things before doing it and messing up. I need to do this in school, at a job, or even when talking to friends.
It's being part of a team and I've never been part of team quite like this before.
Along the way, we've become like a family. That's what keeps me going. What makes me want to stay are the people in the program, mostly because they really love what we do and enjoy it. They make me want to stay and make a difference and share the Mountain with others.
When we can work with volunteers from the community, and even from places far way, they make us feel like we are part of something even bigger than The Howard School or the Conservancy. I can see the change on the Mountain and within my classmates as we grow together as part of the community.
For me, this program is a new step into my future. I want to test myself and see what I can successfully do and see if I enjoy it and what I need to work on. I look forward to learning new things and pushing myself in school and on the Mountain so I can make a difference one step at a time.
- Breanna S.