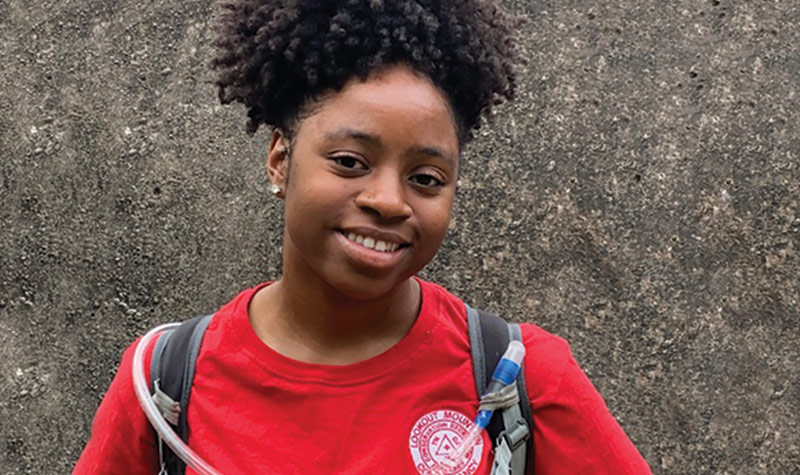 I want to share a story of where I've been and where I'm headed.
Being raised by a single mother with nothing but a high school diploma and a dream, growing up was difficult. She could barely afford to keep food in our mouths, clothes on our backs, and bills paid. I have seen my mother work so many jobs, it's a miracle how she raised four girls. I'm the youngest, so I got to see the growth and destruction of my family over time.
Growing up was hard. But my beacons of hope were every life improvement my mother made, and my eldest sister, Johnnie, being the scholar of the family. She worked really hard, got all the good grades, went to college, took care of us, and even joined the air force. Johnnie is like a best friend to me. Watching her make it through all of our financial, emotional, and physical struggles as a family, made me understand that I could do what she has done; nothing would stand in my way.
Doing everything in my power
One day, a couple of years ago, I made a promise to myself. After seeing my mother break down crying from not being able to pay the rent and all her other bills, I would do everything in my power to never have to struggle again.
My peers were focused on popularity and other relevant adolescent challenges. Yet, I had bigger dreams. I didn't want to be poor anymore; I didn't want to keep wearing hand-me-downs, not eating for days, and crying because I could not afford the things my peers had.
I was lucky. Some of my peers couldn't thrive at school, even if they worked hard. But I realized that if I dedicated myself to learning, I could change my life. Not everyone believed in me; I knew that with support from my school, my mom, my community and hard work, I could do it.
I made sure I always had the best grades I could. If my teacher asked me to do something. I would do it and then some. I wouldn't settle for anything less than a score of 98. I didn't want to end up pregnant, dead, or many of the other fates my peers faced. I was determined to prove wrong, the people who doubted me and made fun of me for caring about school so much.
I knew it wasn't just about me. I got a job working for Lookout Mountain Conservancy just to help my mother pay for bills and not have her burdened with trying to take care of me.
Trust starts on the Mountain
Working on the Mountain ended up being so much more than helping my mom with the bills. In my world, you didn't trust anything, especially people. I quickly learned that being smart is one thing, but learning to work with others is where you succeed. Every day on the Mountain, I was challenged to trust others through our work projects. I realized that trust, or lack of, was holding me back from my dreams.
Because of a mom who showed me how real the struggle can be, and with teachers who didn't give up on me, I was able to push through the challenges of the program on Lookout Mountain. Initially, I didn't see how or why the program would teach me to trust others and myself. Now, as a result of the program, I can clearly see my way forward to making my dream of being an Anesthesiologist come true.
Looking back, I hoped that I had the potential to be great—just never imagined that the dream would become a reality.
As I began high school, my teachers had whispers of me being the Valedictorian, but I didn't think much of it. I was not the type of kid that wanted to have such a position. I never thought the little black girl with the fro, could be the face of anything. It was rare that somebody like me, got real recognition. Until now.
Somehow, I managed to break the mold and become the 2019 Valedictorian. It is one of my proudest accomplishments of my high school career. If you were to tell the younger me all the things that I have accomplished in life so far, she would've just shrug it off and call them pipe dreams. But, here I am now, making a difference and becoming the woman I was meant to be. I can't thank my Mom, my teachers, and Lookout Mountain Conservancy enough for believing in me. This is just the beginning of what I can become.
– Hayle M.
UPDATE: Hayle is currently attending Berea College, in Berea, KY, as a second semester freshman. She earned a 4.0 average her first semester and is participating in the Orientation Team, Sazon Latina dance group, African Student Association, Latin American Student Association, Emerging Scholars Program and Entrepreneurship for Public Good. She plans on majoring in biology and chemistry and becoming an anesthesiologist.
Hayle has continued to thrive in the college environment. She has completed two research internships at the University of Kentucky where she was part of regenerative experiment involving  African Spiny mice and Axolotyls. She is currently a biology teaching assistant and was most recently accepted into Berea College Mortar Board, an honor society devoted to scholarship, service, and leadership. 
Incredibly, this summer she will be working at Johns Hopkins School of Medicine as an intern in the Medicine for Greater Good program. The program is focused on research, professional skills, clinical exposure, and community engagement.