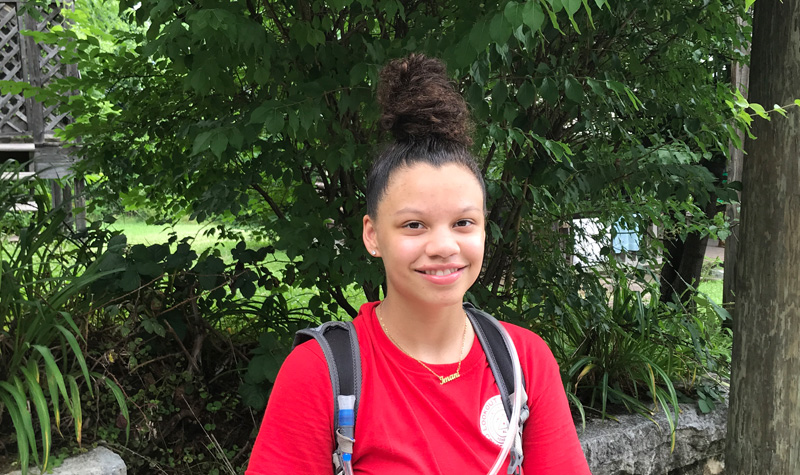 Imani Rowe, a student at the Howard School in Chattanooga, Tennessee, spoke at the Land Trust Alliance's Southeast Land Trust Conference in March 2018. The following is based upon that speech:
My name is Imani Rowe, I am 15 and in the 10th grade. I have been working for Lookout Mountain Conservancy for a little under a year and it has been one of the best things I have chosen to invest my time into. I have received a prodigious amount of opportunities regarding my future career choices, my present life and just life experiences as a whole.
What intrigued me to want to join the conservancy? Two words: Alethea Frady.
Alethea, my older sister, wasn't always the most positive influence. When she joined the program I started to notice big changes in her life. Her attitude became more positive and she began to be more interested and driven towards her school life. Overall, she became a better person.
My sister had never been the outgoing type so to see her getting up early, excited to go to work made me wonder: What was so special about this job of hers and how could I get into it?
Not so easy
I thought it would be as simple as filling out an application, but for anybody who knows, that most definitely was not the case.
There are three overall steps:
    Write an essay, get three teacher recommendations and your transcript
    Volunteer 20 hours
    Interview with current LMC interns and LMC staff
Once you get into the program you will face a series of challenges, and some will make you want to quit. The weather is one of the biggest challenges because you have to learn how to contain your attitude and keep going.
I can remember a few times I wanted to just give up, but everyone keeps you going and lets you know that times get hard and that you always have a shoulder to lean on. On that note I would like to thank Ms. Ashley, Ms. Robyn and all the other board members for the support of LMC.
Setting us up
One of the many reasons I chose to apply for LMC was because I aspire to become a zoologist. The program helps you with your future career choices by having a series of people work with you to fulfill your dreams. They set up internships, job shadows and connect us with other programs that benefit us. Also they give us an order of our priorities so that we can become successful:
School- Our first priority, the most important, without school we can't be successful.
Extra-curricular - Always give back to your community or school.
LMC- The place I work.
What does this all mean?
You gain an excessive amount of life qualities working at LMC.
You learn communication skills, perseverance, teamwork, and you grow a personality that you didn't have before.
I have always loved being outside and always knew how to interact with people, but this program has taught me that there is always room to grow.
I have learned how to not be so independent while working.
I have learned to strategize more and think things through.
Another great thing about this program is its equity and diversity. Not only are some of the interns different ethnicities or races, but so are the volunteers and youth we work with. We learn different things about one another's cultures and how we all can relate to one another.
For me, this is a program that allows us to grow as people within our community. It's a way to better connect with each other, develop life-goals, and get to know the Mountain in a way that creates positive memories.