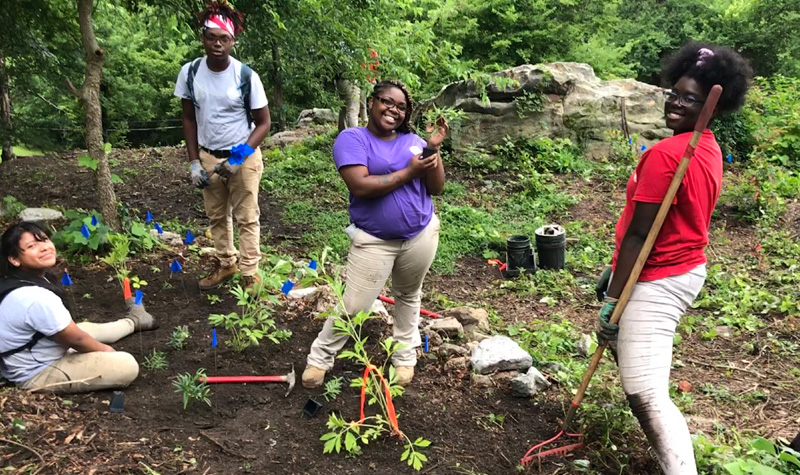 Bringing back the old neighborhood
Kudzu and privet have been taking over the old "Rockmont" neighborhood park that used to have room for people to walk and relax. Rockmont is one of the oldest neighborhood parks in Chattanooga, dating back to 1901.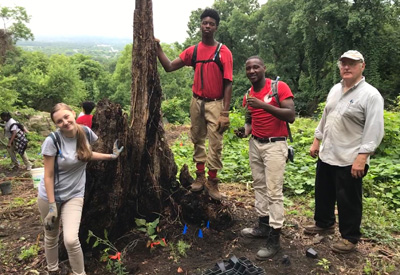 In the past few years, it has become part of Lookout Mountain Conservancy's 50-acre Park on Old Wauhatchie Pike.  The plan for Rockmont is to renew it as a place for relaxation and walking, but also to bring it forward as a pollinator haven for the birds, bees, and butterflies.
Helping restore the natural migration path
The Howard Interns and volunteers have been wrestling with the kudzu, clearing it by hand, using loppers, saws, pick mattocks, hatchets, and weed eaters.  They are helping to restore the native plant species on the natural migration path of Lookout Mountain.
The result of their hard work over the past few years can be seen in the form of daily lilies and daffodils that are growing again where they haven't been seen for decades.  And this year, we have been able to finally plant some native flowers, trees, and bushes, in place of the invasives that had taken over.
All this work and effort is to help regain the native plants in an area that has been overrun by invasive plants, creating an attractive area for the pollinators to come, and a peaceful place for park visitors to stroll.