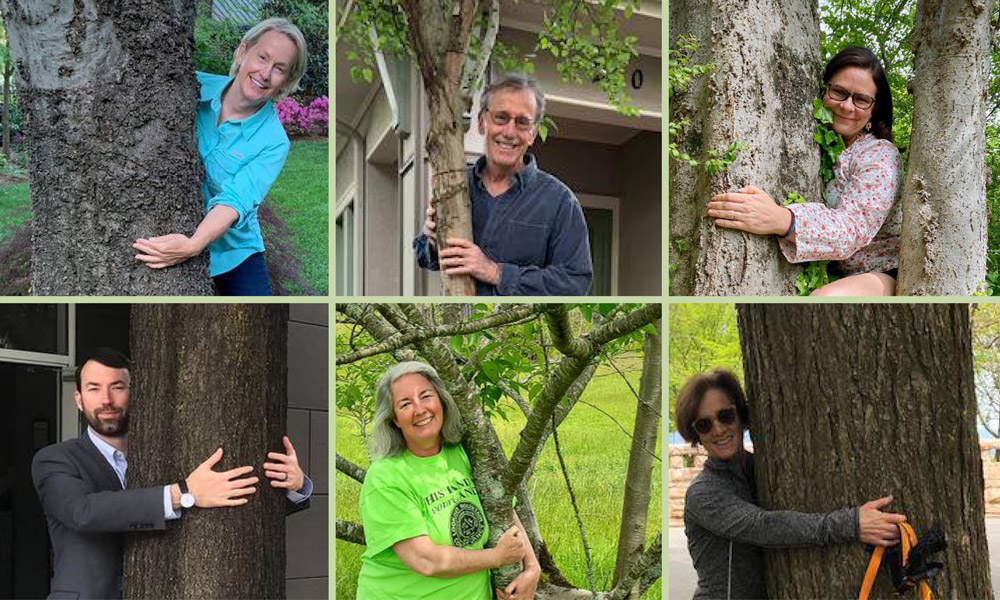 To celebrate the 50th Anniversary of Earth Day, the Lookout Mountain Conservancy (LMC) embraced its conservation, advocacy and education mission by asking the community to "Hug a Tree for Earth Day."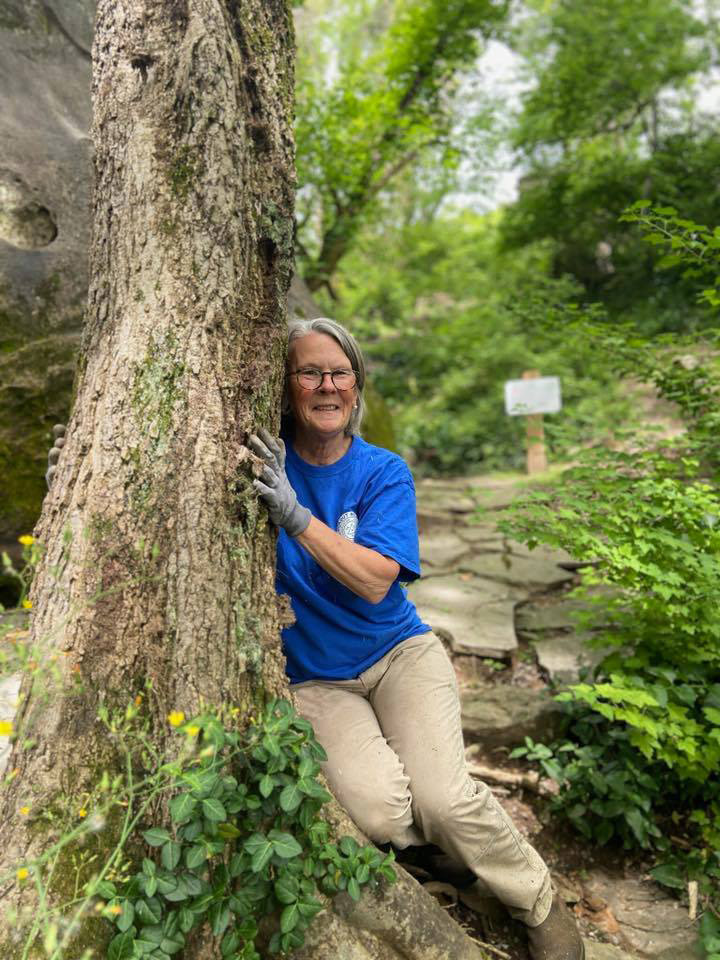 "This is such an unusual time for us all. Out of care and consideration for family, friends, business associates and new acquaintances we have had to refrain from greeting each other with handshakes or hugs. It just feels so…well, distant," observed Robyn Carlton, CEO of the Conservancy. "Some of our Board were in a tele-meeting talking about ways to celebrate Earth Day and suddenly thought "Let's give a tree a big ol' hug instead!"
So Wednesday, the Board of Directors and Staff of LMC, Howard School Interns, volunteers from Starbucks and staff from Rodizio Grill gave hugs to trees—six or more feet apart—at the Conservancy's property on Old Wauhatchie Pike, or at home, to celebrate 50 years of tree-hugging environmental awareness started by Senator Gaylord Nelson of Wisconsin on April 22, 1970. You can keep the hugs going by hugging your own tree at home and sharing a picture on LMC's Facebook page, and by making a gift to support LMC and the Howard School Interns during this especially difficult time.
The Howard Interns and most in their families have not been able to work because of the COVID-19 restrictions. Since school has been out, they have not had access to the meal programs provided through the school. LMC has been able to help provide food for the Interns and their families, but the need is significant. You can help in that effort by making a gift here.
On Wednesday evening, Rodizio Grill provided delicious full meals for the interns and their families, as well as locally manufactured hand sanitizer repackaged into locally made 3 oz. bottles with child proof caps. "The hand sanitizer initiative is yet another way we continue supporting payroll for essential employees and the families that depend on them," said Jonathan Armstrong of Dynamic Group (Holiday Inn & Rodizio Grill owners) and an LMC Board member.
"The Starbucks volunteers had already planned to come out today to work with us on the trails and other land stewardship projects," said Robyn. "We are so grateful for our Starbucks friends for all they do for us."
The mission of the Lookout Mountain Conservancy is to protect Lookout Mountain's scenic, historic and ecological resources through conservation, advocacy, recreation and education, for current and future generations.