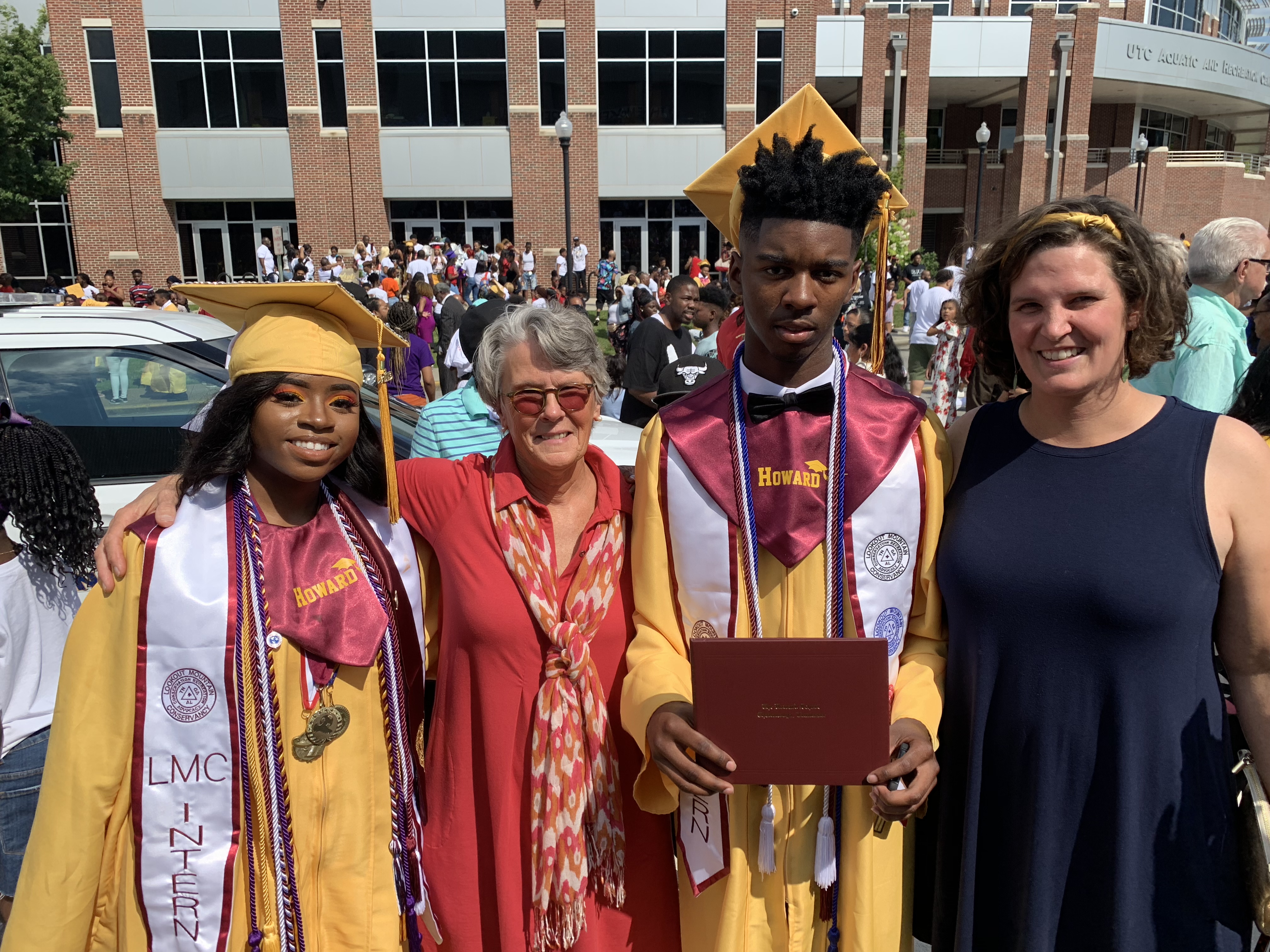 Continuing the legacy of Lookout Mountain Conservancy Interns, Hayle and Tay have beat the odds and are graduating from High School.  Not only are they graduating, but they are #1 and #5 in their Class.
Between the two of them, they were accepted to 37 colleges awarded grants and scholarships totaling $1.4 million.  This extraordinary accomplishment didn't happen by accident: they worked hard and tirelessly—in school and up on Lookout Mountain as part of our Leadership Program—to position themselves to have a choice.
A choice of what school to go to, a choice of what major, a choice of a different future than the one that so many of their peers will face.
Choices for their futures
As Hayle says, "being raised by a single mother with nothing but a high school diploma and a dream of growing up was hard. She could barely afford to keep food in our mouths, clothes on our backs, and bills paid. I have seen my mother work so many jobs, it's a miracle how she raised four girls…
Somehow, I have managed to break the mold and become this year's Valedictorian. It's one of the proudest accomplishments of my high school career."
Hayle has chosen Berea College in Kentucky to pursue a degree in the medical field. The College's culture and programs are structured so that students and staff alike can work toward both personal goals and a vision of a world shaped by Christian values, such as the power of love over hate, human dignity and equality, and peace with justice.  Berea is committed to tuition free education to anyone who is accepted; in return students hold jobs on campus to sustain the college.
Tay is currently deciding between the schools that he has been accepted to. His goal is to play baseball while he pursues an Engineering degree. Tay, like Hayle, was focused on being the change he envisioned for the world.
Together Tay and Hayle, along with the other Leadership Interns, have tapped into the power of nature as they worked side by side to rid the Mountain of invasive species while learning teamwork, trust, communicating their dreams, and building a shared community.
Alternative realities
Hayle and Tay, and the other interns, would not be the amazing young people they are today without your trust and support of this program.
You have helped create opportunities through the Leadership Intern Program that have truly shaped their lives and provided them with a future where they will shine.
What we know from research is that an African American male who does not graduate from High School has a 28% chance of being incarcerated in Chattanooga.
We also know that in a few years over 80% of the jobs in Chattanooga will need some sort of post-secondary education.
The good news is that we, with you by our side, are part of a larger effort to change the future.
Two years ago, The Howard School's graduation rate was 63%, last year it was 72%, this year the graduation rate is even higher with over 150 students walking across the stage.  We are hoping that this trend will continue for the whole school.
We know that being in, and working in, nature is healing, inspiring, and an important respite for people from all walks of life. By building greater access to urban nature, as well as exposing urban youth to "rural" nature, their lives and ours collectively improve as their dreams grow and thrive.
Thank you for helping to envision a different future for these two Interns, and for the Interns who are following close in their footsteps. It wouldn't happen without you.