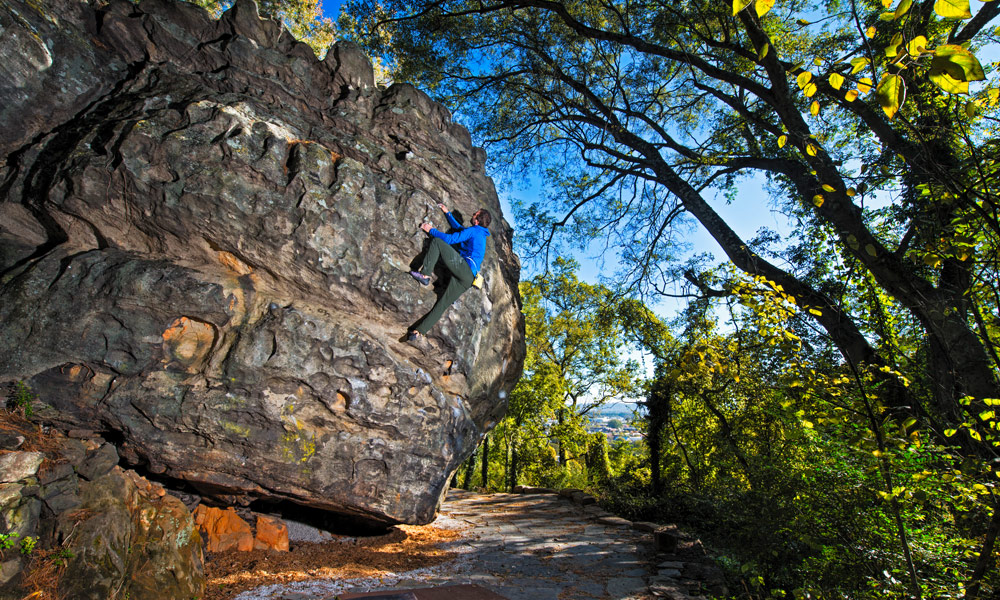 Wauhatchie Boulderfest 2021
We are happy to be partnering with the Southeastern Climbers Coalition and the Access Fund to put together a great competition.
Wauhatchie BoulderFest is an open-to-all community climbing day at Lookout Mountain Conservancy's Boulders on Old Wauhatchie Pike (The Wauhatchie Boulders). We'll celebrate this awesome downtown bouldering area, feature an enduro-style bouldering comp, and climb our heads off! This is a family friendly event for all levels of climbers, even beginners.
Free beer and beverage. Food truck on hand. Firepits and hangout after the event, with amazing views of the river and downtown Chattanooga.
Location
St. Elmo neighborhood of Chattanooga, TN. Event Address: 1832 Old Wauhatchie Pike, Chattanooga, TN, 37409. The event takes place on Lookout Mountain Conservancy's Boulders on Old Wauhatchie Pike, at the foot of Lookout Mountain.
Time
9:00 am - 5:00 pm, Saturday, December 4, 2021. See full schedule breakdown below.
Registration
Or register on site day-of-event.
We suggest a $20+ registration fee. However, please pay what you can to give back to Lookout Mountain Conservancy.
The first 100 registered participants will receive a goodie bag with a free area bouldering guide, Clif Bars and other goodies.
All registered participants will get the area bouldering guide.
Proceeds benefit Lookout Mountain Conservancy, the land trust that owns and manages The Boulders on Old Wauhatchie Pike.
Registration is capped at 150. It's a small boulderfield, so we don't want it to get too packed in there with climbers and spectators.
Schedule
8:00 am - 9:00 am    Registration
9:00 am  - 9:30 am   Welcome and Kick-Off!
9:30 am - 12:30 pm  Enduro Bouldering Competition
1:00 pm    Deadline for turning in your bouldering comp scorecard
9:30 am - 4:00 pm   Climbing, climbing, climbing
4:30 pm - 5:30 pm   Recognitions and Awards
5:30 pm - 8:00 pm   Community hangout, beverages, beer, firepits, a food truck, good times
Who Should Attend?
Are you new to climbing? Perfect, this event is a great chance to meet climbers, enjoy free climbing shoe demos, and learn from experienced climbers on dozens of boulders.
Are you an old-school boulder crusher that just wants to rip a circuit and check out a new boulder field? Awesome, all participants will get a free area guide, and when you've torn through everything, hang out, enjoy free beer, and grab some food from the food truck.
Are you feeling competitive? Well game-on then, and bring your endurance! The event includes a bouldering comp running from 9:30 am to 12:30 pm. The format is simple: do as many problems as you can in 3 hours. That's it. 25 boulders and 100+ problems--how many will you take down? Winners will be recognized as follows: top 3 men, women, and kids (12 years old and younger).
After the event we'll do recognitions then hangout by firepits, enjoy beer and beverages, and an amazing view of the Tennessee River and downtown Chattanooga.
Bouldering Competition Details
Bring a full tank and get ready to stomp on the gas! The bouldering comp is an enduro format. It's simple: you've got 3 hours to do as many problems as you can. There are 100+ problems and 25 boulders. Problems will be labeled on every boulder. Competitors must fill out their scorecards as they go, and get two witnesses to sign off on their ascent. No repeats of problems; problems only count once, then you move on to the next one. Start and finish of the comp will be at the morning Welcome and Kickoff staging area.
If you're doing the competition, you must be at this starting area for kick-off. An event organizer will signal the start and finish of the competition by blasting the air horn. The competition will go for 3 hours, starting at approximately 9:30 am.
Competitors must turn in their scorecard at the same event staging area spot by 1:00 pm sharp, or they won't be scored. Winners will be recognized as follows: top 3 men, women; and kids (12 years old and younger), for boys and girls. A recognition ceremony for competitors will take place around 4:30 pm.
See Bouldering Routes + Levels >>
Pets
Your four legged friend is welcome if on a leash and under control at all times.
**Your safety is our number one priority. We will be keeping a close eye on local Covid-19 cases and will plan the event accordingly.**