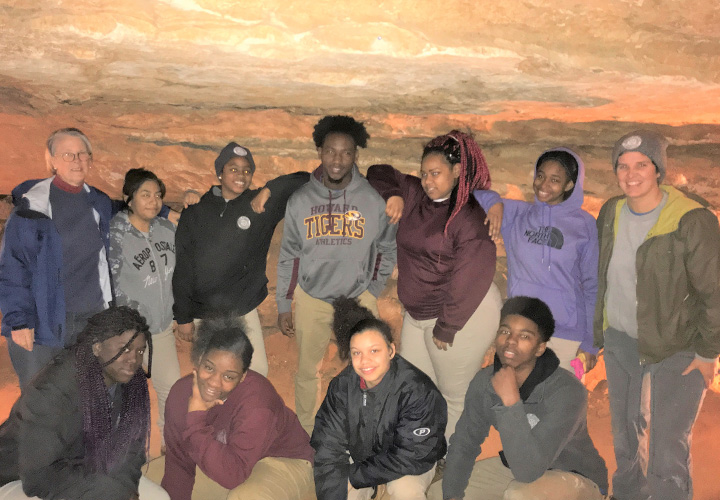 I wanted to share the news that I've decided to transition to a job Erlanger Hospital. It's a decision I thought long and hard about, but realized it was the right time for me and my family. I'll be remaining in the Chattanooga area. I'm letting you know because, for the past three years, I have loved being a part of the Lookout Mountain Conservancy family.
It's hard to put to paper the memories that have shaped me over my time here.  Working at LMC, it's impossible not to become close to each other and care for each other.  We have each other's back, and we work hard alongside each other in the heat and cold.
I was introduced to this family 4.5 years ago playing in the band at the Shrimp Boil.  When I learned about the Intern Leadership program I couldn't wait to get involved.  I got to volunteer consistently during the following year and then found out there was a Program Coordinator position opening.  I jumped at the opportunity.
A program that embraces the whole person
Having come from a background of outdoor education and social work, I thought that LMC's program was incredible, using the land to change lives and giving support to the students and their families along the way.
After having worked here for three years, I still think that it's incredible.
The students in this program keep showing up because they want to be a part of something.  They encourage each other at the deepest level.  When someone is having a bad day, they inevitably pick each other off, dust them off, and say "it'll be ok."
One of the things that impressed me the most in the summer that I volunteered was the compassion that the students have for each other. I saw that through the work relationships were made and when it came down to it, they had each other's back.
That's proven to be true in my work with LMC.
It's the community that makes this possible
We are in this together. We know change is hard, but we are committed to change.
It's people like you, the community members who stand by us, that give us the courage to keep plowing forward even when there is a tough day or it's crazy weather up on the Mountain.
Over these years, while working with the interns, I've learned you don't realize the gifts that are being given right away, but that in time they will be revealed. I'm now transitioning into another job and I look forward to seeing how LMC continues to evolve. I'll stay in touch and I hope to volunteer periodically. Mackenzie Kelly, a recent hire, has been working with me over the past six weeks and will be picking up where I am leaving off.
I want to thank you again for all you are doing to make the Leadership Program possible and to share my belief in how important it is to each student, their family, and to Chattanooga as a whole.
As we invest in families, using nature to change lives, the gift of change and connections unfolds itself over the years. You are a big part of that, and my time here reinforced my desire to continue to support our youth.
Thank you and I hope to see you around town.
Ashley Cofield