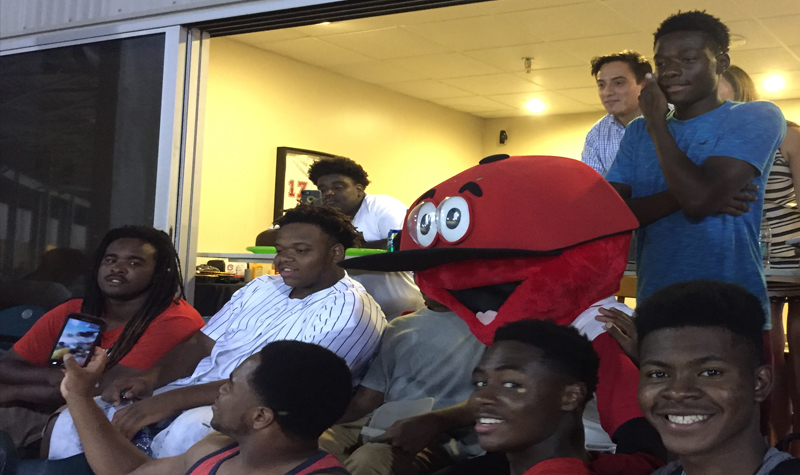 As summer winds down, and school looms on the horizon, the Chattanooga Rotary Club presented a surprise thank you in recognition of the tremendous hard work and community leadership that the students from the Howard School have accomplished on Lookout Mountain.
A mountain of skills
These student interns, all part of the year-round Howard School Internship and Leadership Program with Lookout Mountain Conservancy, have been building skills in trail design and maintenance, communication and leadership, and teamwork and land restoration. Funding for this program comes from area donors and foundations and has received national attention for its impact, including 100% graduation rate from high school and job or college placement.
On July 27, the Rotaracts, young professional leaders from the Rotary Club, surprised the interns with an invitation to the Chattanooga Lookouts ballgame, and the thrill of throwing out the first pitch. The Rotaracts volunteer with the Lookout Mountain Conservancy to provide academic and job mentoring skills, as well as assisting with land and trail restoration on Lookout Mountain.
Learning from each other
The ball game was a thrilling change of pace after a long summer of dirt-covered boots, exhausted muscles, and long days in the hot sun. "We have all grown up in Chattanooga and love the outdoors, so working with the Interns has been a great experience for all of us, whether on the mountain working beside each other, or in our offices, where we invite them to shadow us at our jobs," explained Kelly Spencer. "For us, the ballgame was one small way to say thank you for all their hard work and community service."
"The summer program for these interns is about partnership, team building and inspiring other youth from across the country," reflected Robyn Carlton. By the end of August, the interns from the Howard School Intern and Leadership Program and staff from Lookout Mountain Conservancy will have worked with more than 800 volunteers from across the country, teaching them how to safely use tools, recognize poisonous plants and work together on trail design.
Treasured experiences
Hard work and leadership requires infusing fun and teamwork. The Rotaracts did just that when they provided the gift of seeing our local baseball team in person. It's an experience that many of the interns would not have experienced, and it's a terrific shot in the arm as the interns head back to school. The Conservancy extends it's thanks to the Rotaracts for their generosity and commitment to enhancing the lives of our area youth—it's this type of gift that inspires us as part our work in the community.