Registration RequiredTickets Required
September 22, 2016




5:30 pm - 7:30 pm
Come meet some amazing home-grown leaders
Are you looking for some inspiration? Would you like to meet some of the young leaders in the Conservancy's Intern and Leadership Program at The Howard School and listen to how it has impacted their lives?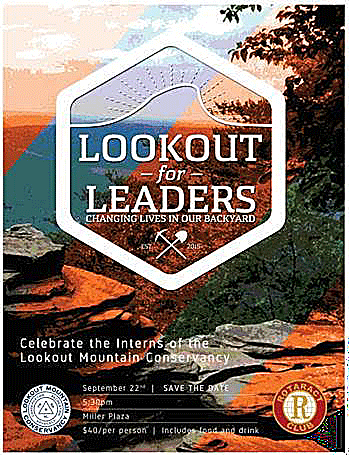 Join the Rotaract Club of Chattanooga and Lookout Mountain Conservancy to hear stories from interns who have participated in the Intern and Leadership Program and how it's made a difference in their lives. 100% of Leadership Interns have graduated from high school, a marked difference from the 50% graduation rate of their high school peers.
Where: Waterhouse Pavilion, 850 Market Street, Chattanooga
What to wear: Business attire
What to expect: Silent auction, tasty hors d'oeuvres, live music, full bar.
Be inspired: 6:15 p.m. to 6:35 p.m. A few interns will tell their stories and explain how the Leadership Program and the Rotaracts have supported their development.
Cost:  $40/ticket
Reservations are required: Contact Kelly Spencer of the Rotaracts at kellyspencer10@gmail.com.
Thanks to the partnership with the Rotaracts (young professionals and leaders of Chattanooga), this growing partnership is blossoming, and the young men and women in our Intern and Leadership Program smile working along aside the Rotaract volunteers as they envision a brighter future.
Come celebrate and help change lives, right here in Chattanooga.